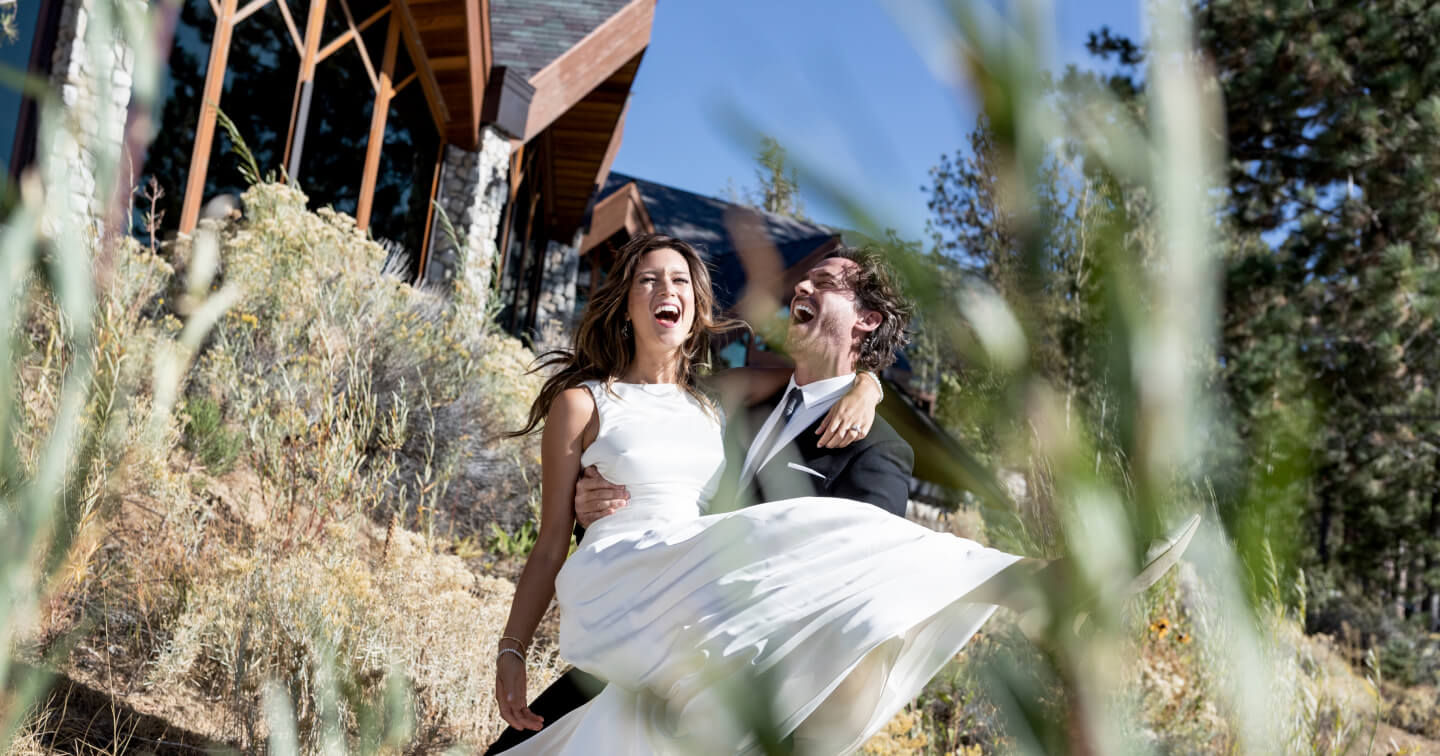 When the '31 Duesenberg pulled into the porte-cochere and the tuxedoed attendant bowed his head at the same time he tended the door, she was both elated and shocked that the dream she dreamt since her youth was becoming reality. The moments to follow confirmed that—the flowing gowns of her friends in the surrey, a croquet course laid out on the lawn, the tower of champagne glasses, the art deco touches that graced the veranda, and the slow, elegant glide toward the man at the end of the aisle, backed by the blue of Lake Tahoe and flanked by best friends in tails and top hats. What was happening here could've doubled as a chapter from The Great Gatsby. But it wasn't. This was her wedding day, the one she'd long envisioned.
When it's your dream day, your first order of business is to dream. To dream big. To create a day that all present will never forget. Next comes finding that place that embraces your vision and that has a reputation for pulling off the amazing.
That place is Edgewood. And our team is here to ensure that every last detail of your wedding lives up to exactly how you've always imagined it.
Arranging a wedding that is nothing less than perfect requires a symphony of planning, communication, and creativity, and most couples can't do it on their own. To make sure these pieces fall into place, our cadre of seasoned and savvy wedding specialists join your innermost circle, walking lockstep with you from day one to establish fluid communication and build mutual trust. This helps us anticipate and cater to your every need as the clock ticks down towards the wedding of your dreams.
2019 Wedding Trends
Each year, the wedding industry outdoes itself, crafting new ways to bring magic to every celebration of love. Based on bridal tastes, fashion crazes and design concepts, trends evolve each year with new ideas for how couples can celebrate their big day.
Edgewood prides itself on having its finger on the pulse of the wedding trends that resonate most with our clients, and we wanted to share some of the top trends you can expect to see in the wedding world this year.
Trend #1: Vintage Weddings
Many brides-to-be are enticed by the allure of vintage weddings: the celebration of heritage, embracing legacy, showcasing family heirlooms, commemorating the first chapter of a lifelong union, or the revival of the elegance of a bygone era. For others, the draw to vintage clothing – especially wedding dresses – means that they can wear something never before seen on a day when they'll be seen by everyone. In 2019, expect a departure from the present-day to add special touches of eras past.
Trend #2: Natural Features and Minimalism
This year, the over-curated is out, and the celebration of nature is in. Brides and Grooms are finding ways to organically incorporate nature into their weddings, from wildflower bouquets to natural backdrops. Now, it's all about picking a phenomenal backdrop for your special day and letting that setting speak for itself.
Trend #3: Larger-Than-Life and Nontraditional Florals and Plants
This year, brides are bringing a natural feel to ceremonies and receptions by incorporating florals and plants, as seen in the resurgence of bold floral arches and installations. Expect to see specially-curated potted plants as aisle decor, and, our favorite, living bars made up of a canopy of personalized live plants.
Trend #4: Over-the-Top Sweet Treats
Sweet-toothers, rejoice! Special, over-the-top desserts have been on the rise for a few wedding seasons, and have no sign of going anywhere. From large format statement cakes to donut walls, personalized cookies to custom-made cake balls, the sky's the limit when dreaming up your dream dessert. And many brides are finding ways to include interactive indulgences, with build-your-own s'mores bars and chocolate fountains to engage guests in the fun.
Edgewood Tahoe is the perfect place to plan your wedding. From menus to venues and everything in between, our staff is capable of helping you ring your wedding bells in opulent style. Why not reach out today to learn more?